National Champions Josh Cloyd and Tyrell Curry lead the way and the men's track and field team achieved a frist ever top ten team finish at the NAIA Nationals in Fresno California. On Thursday Josh got the meetoff to a great start when he won the long jump with a personal best effort of 24'.75". Josh's jump came on his last attempt and moved him from 6th to 1st with a personal record leap!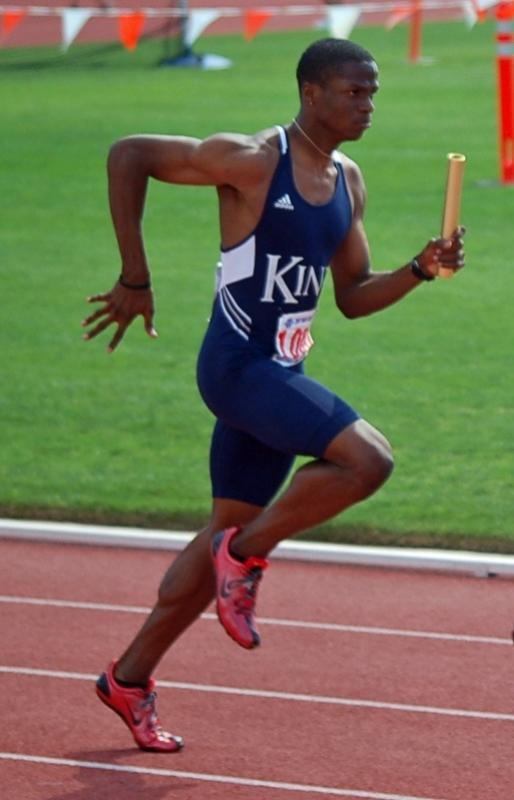 On Friday the inspired 4x100 team (Michael Bunche, Tyrell Cuffy, Jamaal Parker and Marcus Lomans) as it improved by .7 seconds to advance to the finals. Tyrell had already qualified for the 100 meter final with the fastest time but was unable to compete due to serious leg cramps. Also on Thursday Brandon Gray qualified for the 400 meter finals as did the 4x400 team of Cloyd, David Krenik, Lomans and Gray.
Early on the final day of competition the 4x1 team raced to a 3rd place finish which added 6 points to the score and earned All American honors for the four. An hour later Bradon finished 4th in the 400m to add 5 more points and then both Lomans and Cuffy qualified for the 200 meter finals. In the finals of the 200 the defending champion Mike Rogers of Oklahoma Baptist led until the last 5 meters when Tyrell edged by him for the win. The final times were 20.94 for Tyrell and 20.95 for Rogers. Adding 3 points to the team scoring was Marcus's surprise 6th place finish. Entering the competition Marcus was ranked 18th overall but he rose to the challenge and became an All American for the second time with his personal best time of 21.49 seconds. In the final event of the day Tyrell joined the 4x400 team and a new school record was established (3:12.70) and another point added to the team score.
In all 6 King College men achieved All American status and the team placed in the top ten overall in only it's third year of existence.
JUDY JOHNSON HAS ALL AMERICAN PERFORMANCE
FRESNO, CA - The 4x400 relay team of Brittany Simmons, Judy Johnson, Amanda Davis and JaRethea Adams established a new school record of 3:54.84 and just missed qualifing for the finals in that event. Individually Judy placed 6th in the 100 and 200 for All American status in both events. Her time of 11.97 seconds in the 100m established a new school record!
National team:
Michael Bunche
Freshmen
Bristol TN
Tennessee HS
Josh Cloyd
Sophomore
David Crockett High School
Telford, TN
Daniel Colina
Junior
Topsham High School/ Allen JC
Topsham, ME
Tyrell Cuffy
Freshmen
Newland, Cayman Islands
John Gray HS
Brandon Gray
Freshmen
Memphis TN
Cordova HS
David Krenik
Sophomore
Woodbridge High School
Woodbridge, VA
Marcus Lomans
Sophomore
Chilhowie High School
Chilhowie, VA
Jamaal Parker
Sophomore
Central Fellowship Christian Academy
Macon, GA
Jarethea Adams
Sophomore
Smyrna, Tennessee
Smyrna HS
Amanda Davis
Freshman
West Wilkes High School
Purlear, NC
Judy Johnson
Sophomore
Bearden High School
Knoxville, TN
Brittany Simmons
Freshmen
Farragut High School
Knoxville, TN