The inaugural CBHS Invitational was held April 27
th
and 28
th
starting with a long Friday night of field events and finishing with a beautiful sunny day and many outstanding performances. The field events were held on Friday afternoon and stretch a bit long into the evening, but overall the meet was well run, good job at the finish line, and the caliber of athletes attending was superb. In a meet that looked to be a strong tune up venue for most of the Div 2 West Region teams, Div 1 Bolton girls came out on top with upcoming
Arlington
in second just ahead of Div 2 St. Benedict girls. On the Men's side, MUS again showed their strength by pulling off a tightly contested boys division and coming out ahead of ECS by only 8 points and CBHS close behind in third. With the track season quickly approaching Sectionals and Regionals, the performances at this meet turned out to be – just like the weather – outstanding!
Some of the exceptional performances from the meet included:
Senior hurdler Lee Moore, with a time in the 300 hurdles that was less than half a second off the state record, was named Outstanding Male Athlete of the Meet. He also won the 110 hurdles, ran legs on both the winning 4 x 100 and 4 x 400 relay teams. It seems Lee's DQ from last years State 300 hurdles has him extremely motivated to dominate that event in Murfreesboro at the end of May. Should be a fun race to watch.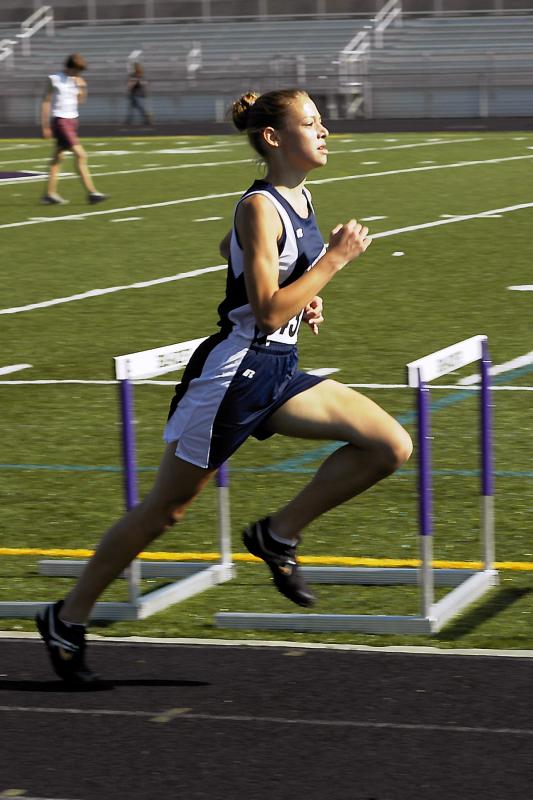 Coming off a pulled hamstring from early in the season, St. Benedict's junior distance expert, Elizabeth Altizer was named Outstanding Female Athlete of the Meet. In one of her first meets since returning from the injury, she showed her wide range of talent by taking first places in the 3200, 1600, 800 and running second leg of the winning 4x400 girls team. Elizabeth's time of 5::15.16 in the 1600 broke the St. Benedict school record held for several years by former SBA distance runner Denise Bargiachi (who now runs with University of Arkansas). And as any athlete can attest, coming back from a hamstring injury and running this strong is an impressive performance for sure!
In another close call to a State record, Bartlet's Jessica Merriweather cleared 5'10" in the high jump and just missed on her attempt to tie the state high jump record at 6'. She also easily won the 100 hurdles the same evening with a 15.51 and the long jump with a jump of 17' 9.25".
Keisha Watkins of Bolton, had a great day by winning the 400M dash in a 59.54, winning the Triple Jump, fourth in the long jump and ran a leg of the 4x800 relay team that placed second.
James Gilreath of Bartlett, again showed his speed posting a 1:59.84 - slower than his 1:52.95 he ran a week ago at the Volunteer Outdoor classic, but still looking strong and ready to go even faster when the end of May comes around.
And in the girls 300 hurdles, Lacy Moore of Hutchison School seems to be on pace to fill the shoes left by Liza Welford who graduated last year from Hutchison. She won the event with a 48.40 which is short of Lisa's state winning time of last year, but a good performance for the young athlete.
Briarcrest senior pole vaulter, Jennifer Garner, again showed her dominance with a vault of 11' 10". It's only becoming a question of how high can she vault… should be exciting to watch at the State Championships this year!
Next year's CBHS Invitation is scheduled again for the last weekend in April and, if this year is any indication, we should have a slew of great performances.